Patricia O'Brien Art
F I N E    A R T   P A I N T I N G S
Floral Paintings

18

products

Portrait Paintings

13

products

Drawings

25

products
Showing 6 of 18 products on Floral Paintings collection
Showing 6 of 13 products on Portrait Paintings collection
Showing 6 of 25 products on Drawings collection
Current Exhibit and Artist Statement
"2023 Strokes of Genius Juried Exhibition"
Maryland Federation of Art
Oct 25 - Nov 25 2023
18 State Circle
Annapolis, MD 21401
Everyday 11am - 5pm
------------------------------------
"Symphony of Colors"
Martha Spak Gallery
October 17 - November 26
60 District Square SW
Washington DC 20024
Wed-Sun 12-6
_______________________
-ARTIST STATEMENT/BIO
Pat O'Brien's contemporary floral and portrait paintings document the ongoing thoughts and emotions which bend, sway and weave through our mind throughout the day. These thoughts and feelings, like the painted blooms in her floral art, link together and burst and fade in and out of each other.
Her portrait work reveals feelings which play across the face and through the eyes. These portrait paintings evoke the emotional spectrum and offer a glimpse into the story evolving in the mind.
After working as an electrical engineer, Pat decided to pursue her lifelong passion of creating art. Her training was diverse, including a yearlong personal challenge, creating and posting daily oil paintings. The intensive learning experience culminated in a solo exhibitons/fundraiser for the Franciscan Center, a location in Baltimore providing food, emergency assistance, and supportive outreach to those in need.
Pat has lead workshops, lectures and exhibited her artwork in juried exhibitions throughout the United States, including Marietta/Cobb Museum of Art, Slater Memorial Museum, and Maryland Lowe House of Delegates. Her artwork has been featured in WMAR TV2, Catholic Charities calendar cover art, The Baltimore Sun, The Catholic Review, Baltimore and Historic Ellicott City Decorator Show Houses, Schiffler Publishing books "Show Houses 1", "Show Houses 3" and public mural work in Towson Maryland.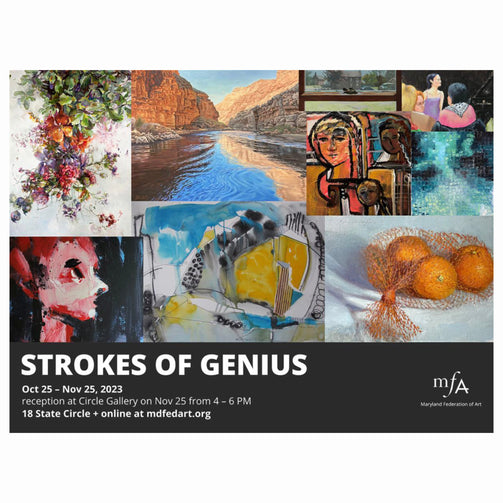 CV
2023 "Strokes of Genius", Maryland Federation of Art, Annapolis, MD
2023 "A Beautiful Mess", Girls Who Paint Gallery, Kensington, MD
"2023 Regional Juried Exhibition", Hill Center Galleries, Washington DC
2022 "Strokes of Genius", Maryland Federation of Art, Annapolis, MD
2022 "Elemental: Earth, Fire, Water, Air", Juror's Award, Maryland Federation of Art, Annapolis MD
2022 "Reconciliation", York and Penn Gallery, Towson, MD
2022 HEC Decorator Show House, Woodbine, MD
2022 "Open", Laurel Art Guild, Laurel, MD
2022 "Botanicals", Light Space and Time Gallery
2021 "Wind", District Arts Gallery, Frederick, MD
2021 "Bloom", Gallery 115 Y, Frederick, MD
2021 "Botanicals", Light Space and Time Gallery
2018 "West of Center", Northville Arthouse, Northville, MI
2018 Metro Montage, Marietta/Cobb Museum of Art, Marietta, GA

2018 Baltimore Symphony Show House, Baltimore, MD

2018 solo exhibit, A Painting a Day for a Year, The Franciscan Center,
Baltimore, MD

2018 "Unbound" Apero Catalogue and Gallery

2018 Special Merit, "All Women", Light Space and Time Gallery

2017 "Hope for the Holidays", Monmouth Museum, Middletown, NJ

2017 "Ornament Show and Sale", Annmarie Sculpture Gardens,
Solomons, MD

2017 "Imagine", Shirt Factory Gallery, Glen Falls, NY

2017 "West of Center", Northville Arthouse, Northville, MI

2017 "notBig(4)Small", M S Rezny Gallery, Lexington, KY

2017 "Themeless", Marygrove College Gallery, Detroit, MI

2017 Expression Catalog, Apero Gallery, Fullerton, CA

2017 Baltimore Symphony Decorator Show House, Baltimore, MD

2017 "2017 National Exhibition", New Orleans Academy of Fine Arts,
New Orleans, LA

2017 "All Women", 6th Place, Light, Space Time Gallery

2017 Honorable Mention, "MFA Lowe House Juried Exhibition", MD
House of Delegates, Annapolis
RECENT PUBLIC MURAL WORK
2023 Pregnancy Center North, Towson MD
2022 Towson Planter Boxes Project, Towson MD
2020 Optimum Performance Physical Therapy Wall Mural, Towson MD